2012 LLHH Cup
Decatur Varsity takes the Cup
February 25th, 2012 at 7:16PM
February 25th, 2012 9:43PM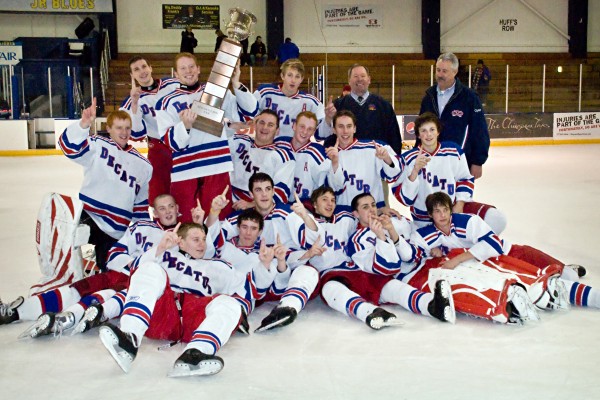 ---
Congratulations to the Decatur Varsity team on winning the 2012 Cup. Also the Decatur Varsity team took the regular season title by way of tie breaker. Decatur Varsity and Champaign were tied in total points for the season. The same teams were tied by points in head to head play this season. The tie was broken by total wins. Decatur Varsity 8 and Champaign 7. This year was extremely competitive as witnessed by the number of ties between the teams.Decatur Varsity had 5 ties, Champaign had 7 ties, Decatur JV had 7 ties, Sacred Heart Griffin had 1 tie, Chatham had 6 ties and Springfield had 4 ties.
Congratulation goes to the following 3 players
Trevor Stone of Sacred Heart Griffin who won this seasons scoring title with 35 points in 10 games with 18 goals and 17 assists.
Ross Lipic of Decatur Varsity who lead all goalies with a Goals Against Average of 1.78 in 8 games
Brandon Macak of Champaign who lead all goalies with a Save Percentage of .909 in 6 games